Many organizations are locked into a long-standing pattern of annual events of different kinds that consist of a set of presentations programmed across a day or two, perhaps with a token panel session in an attempt to liven things up a bit. Events like these, often run by over-stretched comms people who fall back on the same template year after year, rarely generate any really interesting discussion or energy in the room.
There are many ways that conferences, seminars and workshops can be designed to deliver highly valuable results for both the delegates and the organization running the event. With careful preparation and an openness to trying something different, you can take your conferences and meetings to a whole new level. For example, the approaches taught by the Bright Green Learning Academy (one of my current clients), are based around collaboration by design and a result-oriented process.
However, if – for whatever reason – you are not able or ready to call in the valuable support of process facilitators (like Gillian and Lizzie at BGL), there are still many easy-to-implement solutions for improving these "traditional" conferences; steps that can be taken by even the busiest of organizers.
I'll be coming back to this general topic in future posts, but I'll start with two tips here, as they were both put into action at an event I worked on this week, namely DevCon, the annual developer conference of the EBU (European Broadcasting Union). While I came on board quite late in the day for this particular event, I did play a part, when I worked there full-time from 2011 to 2014, in developing the way the EBU Technology & Innovation department still approaches its events today.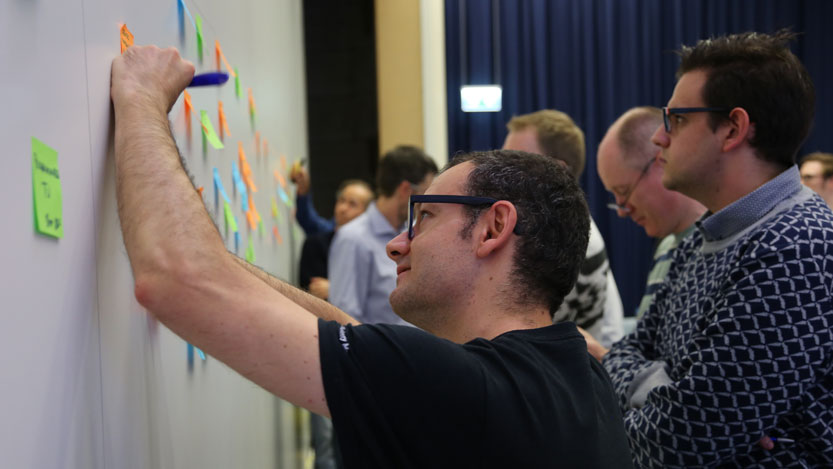 Tip #1: Breathing Space
When designing your programme, make sure that you build in plenty of time around each individual presentation, regardless of the length of the speaking slots.  For example, DevCon this week was largely based around 30-minute slots. The speakers had thus been asked to aim for 20 minute presentations to allow time for questions. There can be a tendency – particularly among managers who are reviewing the proposed conference programme – to fear that everything will be over too quickly: "What if there are no questions?!!"
In fact, having a presentation finish 'early' is what allows the real magic to happen. When delegates at a conference or participants at a workshop realize that everything is not going to be rushed and the programme won't overrun (denying them valuable coffee-drinking time), they start to relax and become more comfortable about actually venturing to pose a question. And that's where the next tip comes in…
Tip #2: Your Moderator
This may seem obvious to many people, but you need an event host or moderator who knows how to take advantage of that breathing space. Ideally the person in question will be familiar with the subject matter and will have prepared a question or two that can be posed to each speaker if none are immediately forthcoming from the floor. But – and this is the key point – they also need to be prepared to allow just enough awkward silence to fall over the room so that the delegates (who, remember, are not on edge because things seem to be running over time) are prompted to raise their hand.
Actually it also helps a lot if the moderator knows a few of the conference delegates by name and can call on them directly for a question or ask them to comment on a particular aspect of the presentation. This needs to be done carefully to avoid embarrassing someone who actually spent the previous talk checking email!
—
These are two very simple tips, but it's amazing how often they are forgotten or ignored. I've been to countless events where the aim was to squeeze as many talks as possible into the programme or where the person hosting the event saw their role as simply calling out the name and job title of the next speaker. Addressing even just these two issues can already improve your events considerably.