Over the past decade or so I've worked for four different organizations aiming to engage members in some way. Whether it was technology experts following the work of the DVB Project or the EBU, the staff of EAZA member zoos, or alumni of the International School of Geneva, the common thread was that the organization I worked for was an added extra in the recipients' busy lives. In each case we were asking them to create space for something beyond their daily professional responsibilities and their personal life.
At all four of those organizations I wrote and sent a monthly e-newsletter, using more or less the same format and approach in each case. Why? Because it works!
This e-newsletter, which others might call a bulletin or digest, features a table of six to twelve stories each month. Each consists of a thumbnail image, a short-ish headline, three to four lines of text and a more… link. There's a banner featuring the organization's logo at the top and the footer can include other "housekeeping" information. There's a screenshot of the most recent Ecolint Alumni newsletter below, and here's the EBU Technology & Innovation newsletter from March 2014. (They've since moved to a slightly different format owing to a change of emailing tool.)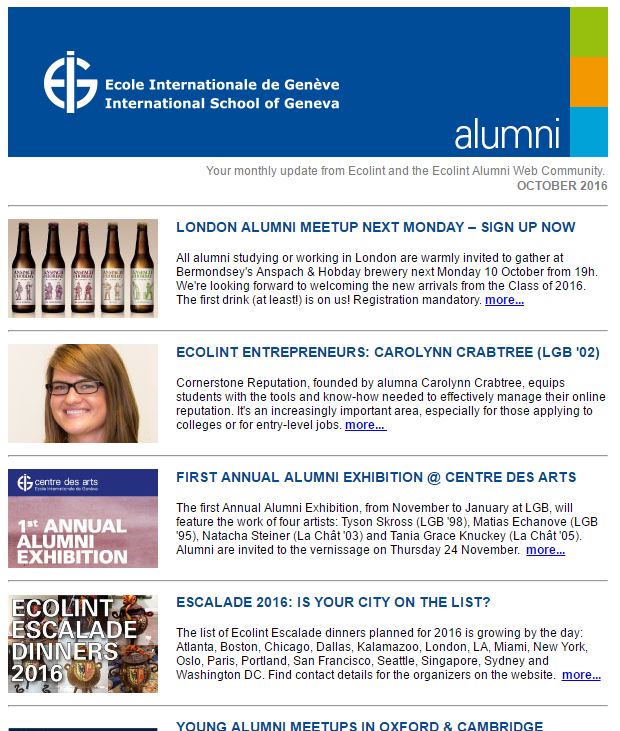 My aim with these emails has been to drive traffic to the websites and encourage the recipients to take some sort of action: register for an event, read a blog post (and perhaps share or comment on it), or simply feel valued by the organization. The format that I have re-used again and again has been consistently successful.
For example, a typical monthly alumni e-newsletter for the International School of Geneva, going to around 6,500 registered members, generates more than 1,000 additional site visits in the 2-3 days after sending. (The stats from the platform we use, YourMembership.com, tell me that our May 2016 newsletter was viewed 5,088 times and had 924 click-backs.)  And I saw similar levels of engagement when using this format at those other organizations mentioned.
Top Tips
Short items with clear snappy headlines
Don't force the recipient to read long swathes of text that might be irrelevant to them. If they're interested, they'll click through. The headlines need to make clear what the item is about and should, where relevant, include a call to action.
No hierarchy
Every story follows the same format with no larger images highlighting particular items. While there's an instinct to put the most important (for whatever reason) stories at the top, in my experience the order in which the items appear has little impact on how often they are clicked. For a busy organization that has diverse activities and a diverse membership, each recipient will find the items that are of most interest to them.
Variety
The stories themselves and their accompanying thumbnail images should display plenty of variety. The image column should have a mix of photos, illustrations, logos, etc, and the items should be in an almost random order (rather than, say, keeping all of the event-related items together). This keeps it interesting for the recipients. And where a particular topic – an upcoming event, for example – appears in successive newsletters, the headline and copy should change every time, (e.g. "Save the date", "Early bird rates…", "Great keynote speaker…", etc.).
Predictability
Your newsletter should be sent on the same day each month, whether that's the first working day, the last Monday, the 15th, etc. By doing this you can gain the trust of your recipients, who will become accustomed to the rhythm with which they hear from you. You should also avoid using that particular mailing list in between those times. Almost all information that needs to be communicated can be scheduled in such a way that it can be held until the next monthly e-newsletter.
A bonus benefit
A final point worth mentioning is that adopting and sticking to an approach like this – a monthly e-newsletter of links to various pages and items on your website(s) – will serve as an added incentive to keep your site fresh. I find that I spend the couple of days ahead of the send date adding and updating content on the site, to ensure that I have sufficient and sufficiently interesting stories to include.
There are, of course, many ways to do email newsletters, but I can say with confidence that, for the kinds of organization I've worked with, this method is really effective.