One of the first things we did when I started working at the European Association of Zoos & Aquaria in 2009 was change the name of the quarterly magazine from EAZA NEWS to ZOOQUARIA. The existing title wasn't terrible, but to me it felt a bit stale and boring. I wanted a title that would appeal to the staff at member institutions even if they didn't know about EAZA. The new title also gave us more scope to promote and use the magazine beyond the membership.
The name change coincided with a move to full colour throughout the magazine, taking advantage of the wonderful photos that can accompany articles about animals. The content had always been quite strong, but with a fresh look and feel, and a name that gave a better idea of what you might find inside, I felt we were giving the content the attractive context it deserved.
If your organization puts time, effort and money into producing a periodical, ask yourself whether you are getting maximum value from those resources. How would your publication look sitting alongside other magazines that your target audience are likely to read? Think about whether a change of name, a freshening up of the design or a new approach to the content would deliver more, without necessarily increasing the costs.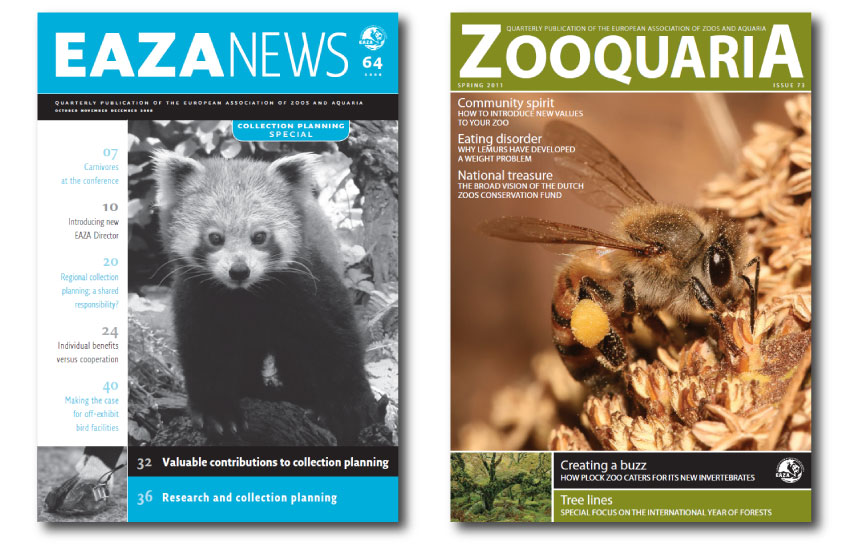 We had a superb designer for ZOOQUARIA, the talented Lou Tait. I subsequently worked with Lou on projects for the EBU and Fondation Segré.