Last week saw the first DVB DEMOS event, an attempt to replicate key aspects of a physical tradeshow using online platforms. The event was well received and I thought it would be useful to describe how we* put it together. It might inspire you to do something similar in your own domain.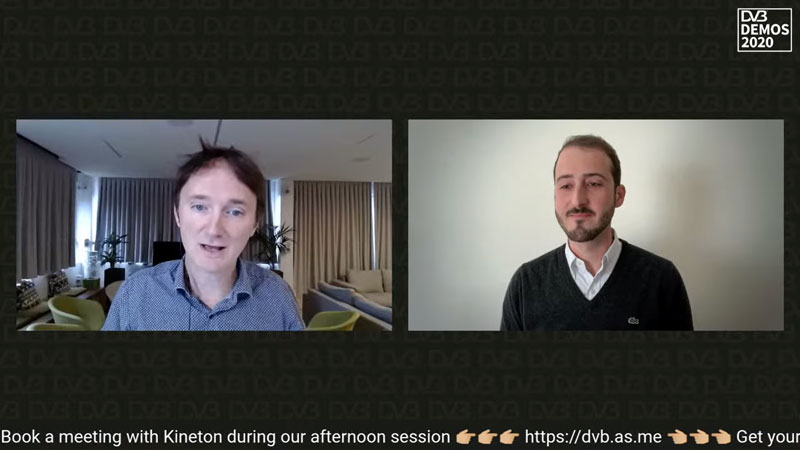 With the major broadcast technology exhibitions being cancelled in 2020, the companies that make products based on DVB's media delivery standards were denied a crucial marketing channel. And for the DVB Project itself the IBC show in Amsterdam is an annual flagship event to show early implementations of new DVB specifications.
We decided during the summer to target running our own autumn event, rather than trying to break through the noise at the online version of IBC2020. The idea was to give DVB members an opportunity to demonstrate their products based on DVB's newest specifications and enable them to have one-to-one meetings with prospective clients or partners.
We came up with a two-part event: in the morning we delivered a two-hour live stream where each of the 14 "exhibitors" was given a six-minute slot in which to present a short demo. We used StreamYard to produce a live YouTube stream that we could embed on the event's landing page**. The stream was fully open, with no registration required. And then in the afternoon we ran a Zoom meeting where each exhibitor had their own breakout room and attendees could book appointments.
The live stream served as a kind of shop window and focal point for the event. The exhibitors did a super job of putting together their demos, with a mix of prerecorded videos and fully live demos, but in all cases at least a live introduction and summing up. Throughout the two hours we encouraged viewers to make appointments for the afternoon session. We used a tool called Acuity Scheduling to manage individual calendars for each exhibitor – they received an email notification each time somebody booked a 15-minute slot in their room.
While the numbers were modest – around 200 watching the live stream and around 100 private meetings in the Zoom breakout rooms – the general feedback was that the format worked well. The live stream was short enough and with sufficient variety to be engaging; and the afternoon session yielded one or more potentially valuable leads for most of the exhibitors.
Tips for success
Many other online events of this nature have relied heavily on prerecorded content; the liveness of our live stream was appreciated by those who watched. Personally I feel that watching a live event feels fundamentally different to something you know or sense is prerecorded – it's a little like the difference between watching a sports fixture live or deferred, even when you don't know the outcome in advance.
A few other tips if you try to do something like this yourself:
StreamYard is a user-friendly tool for producing a professional quality live stream with multiple contributors. Make sure to have at least one rehearsal with each exhibitor – you can set it to stream to an unlisted YouTube video so that they can watch their own rehearsal back later. While I did both the presenting and the production (vision mixing, graphics, triggering videos) myself in this case, I would separate those roles in future.
Zoom still seems like the best option for the breakout rooms. While you can allow participants to move freely between breakout rooms, we needed to retain control in this case, so we disabled that option. However, as only the host can then move people from room to room (and co-hosts, which was the role we assigned to exhibitors, can move themselves between rooms), there's a lot of pressure on one person to move the attendees into and between meetings.
Acuity Scheduling is a powerful tool for allowing people to book meetings. There was a bit of a learning curve with regard to setting it up for multiple different exhibitors, each with their own logo, description, etc. While we required both a Zoom registration and a booking on Acuity for this first DVB DEMOS event, next time around I think we can manage with just the Acuity bookings, providing the Zoom link in the confirmation email. (Indeed, one could imagine sending a dedicated online meeting link for each individual booking, perhaps even having the exhibitors use their own platform of choice.)
I'm happy to provide more information about how we put DVB DEMOS 2020 together. Just send me an email.
*I've been associated with the DVB Project for a long time, originally as an employee and now as a consultant providing support on communications and events. I worked with DVB's Head of Technology Emily Dubs to put the DVB DEMOS event together.
**Note that YouTube now places restrictions on embedding live videos. You must have a channel with more than 1,000 subscribers and meet a couple of other minimum requirements. These rules don't apply to channels that have been around for more than a couple of years, which was – happily – the case for DVB.